Surpass for Windows editions are designed to meet your library's growing needs.
Surpass Select and SL ensure that no matter your volume count, you have access to modern library functions, and to add-ons that enhance your patron's experience. Surpass CL provides a full suite of library automation services ideal for church libraries, making management of your library and upgrading as you grow seamless.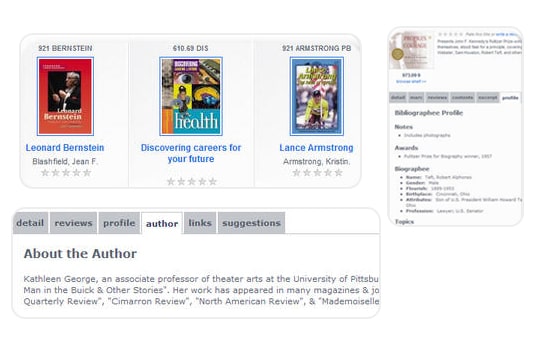 Enhanced Content
Extend and enhance your catalog with content from over 10 million titles. Insert book jacket images, include summaries, annotations, excerpts, table of contents, author notes, and reviews. Let patrons know which books are part of a series and add video and music related to their selections.
Awards & Honors
Automatically update your catalog when literary medal winners are announced. Configure your settings to only show the awards you want within book details.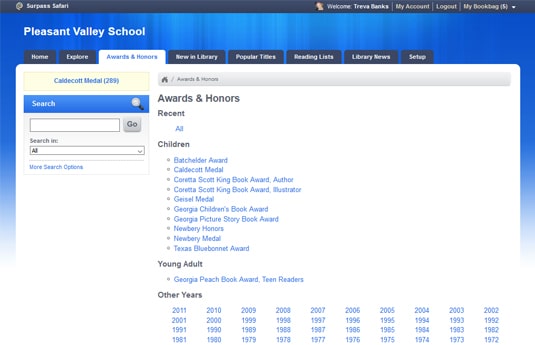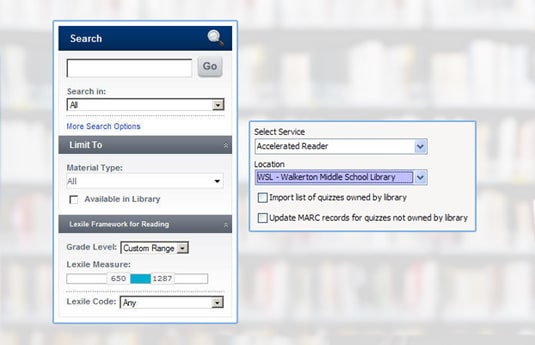 Reading Program Service
Automatically update MARC records with reading levels for The Lexile Framework, Accelerated Reader, and Scholastic Reading Counts. Patrons can filter OPAC searches by reading level, point value, or quiz availability. Educators can use Lexile values to find resources for an individual or group of students.
Frequently Asked Questions
How much does Surpass cost?
Our sales representatives will help you customize a package that best suits the needs and budget of your library. CL for church libraries starts at $495 for the administrative module, CL Central. The basic package for SL (small libraries with under 5000 materials) begins at $995 and the Select software (for libraries with over 5000 materials) starts at $2100. Please contact the sales office at 888-313-7678 Option 2 for a customized quote for your library.
What are the system requirements?
Will I be able to use Surpass on more than one computer?
Surpass can be licensed as a single user for use on one computer only or can be licensed to be installed on a network server and distributed to multiple computers. Pricing will vary with the number of workstations that will access the software. Your sales representative will be able to quote you pricing for the number of workstations you need.
Will Surpass work on a Mac?
Surpass Cloud is the ideal choice if your library uses Macs as it can be access from any device with a modern web browser. Surpass for Windows is intended for computers running Microsoft Windows.
Are there annual fees after the initial purchase?
You receive one year of Surpass Support with your purchase, including program updates and all other support services. After the first year your support renewal is optional, but you will no longer be entitled to software updates or any of the support services if you choose not to subscribe. If you drop your subscription, you may pick it up again at any time in the future without penalty or back-pay.
Certain add-on subscriptions are only available to Surpass Support subscribers. Access to the Surpass Support website with the knowledgebase, tutorial videos, and latest software downloads is only available to Surpass Support subscribers.
Support includes the ability to contact the support team, software updates, Surpass Cloud Backup, access to the support site, invitation to the Surpass Community Forum, and book jackets for Safari from Open Library.
What kind of training is available after we purchase?
After purchasing, you will receive a client ID/password for the Surpass Support site where you will find links to various training materials such as short videos, and webinars that are approximately an hour long. An extensive user's guide is available for download from the support site. Online user's guide is also available within via Central's Help option. Customized live webinars can be purchased.
Can we put our catalog on our web page?
Surpass Web SL/Web Select can be placed on an in-house web server. The catalog will have a url when installed on a web server and that url can be a link on your web page. For web-based, we recommend you consider Surpass Cloud instead of Surpass for Windows. Surpass Cloud can be accessed from any device with a modern web browser.
How long does it take to get Surpass up and running?
After payment, you will receive a Welcome Letter with a client ID/password for the support site (usually within 24 hours.) You may then go to the support site and immediately download/install the software. You will need to call the sales or support office for license numbers.
Can I import my students/patrons from a SIS or existing patron database?
In most cases, yes. We can create a custom patron import template for you that you can use to import patron information from other systems. There is a modest one-time fee for this.
Will I be able to keep my existing barcodes?
Most barcodes generated by an existing library automation program will probably be compatible. Contact the sales office for instructions on how to use the demo to test the compatibility of the existing barcodes.
Can I import my current records?
Surpass is a MARC based system and can only import MARC records. If you can export your current records in MARC format, they will probably import into Surpass with few problems. You may be able to export/import these records yourself, or we can do this for you for a fee. If your records are in Excel, we can probably do a materials conversion and convert them into MARC format for import. Unless there is extra record manipulation to do be done, the basic conversion charges begin at $350. Contact our sales office for details.
Can I purchase Surpass CL for the school run by my church?
Surpass CL is only for church libraries, not church-school libraries. If the library serves the congregation of a church, then you can purchase CL. If the library serves both the church and the school, then you will need to purchase Surpass SL or Surpass Select.
Will Surpass work on Chromebooks?
If your library uses Chromebooks, we suggest you consider Surpass Cloud instead of Surpass for Windows. Surpass Cloud can be accessed from any device with a modern web browser, including Chromebooks.
Surpass Safari, the patron catalog for Surpass for Windows, is a standard web site, accessible from any browser, including the browser on a Chromebook. Additionally, the Go-Circ circulation module also runs well on Chromebooks. However, Surpass Central, the full administrative program, does not run on a Chromebook. This means that some administrative features such as cataloging, reports, and printing of barcode labels will not be available.