A growing movement in the organization of fiction materials is genrefication. As implied by the name, genrefication divides books into genres or subjects for ease of browsing. Many libraries are choosing to maintain their current classification system for their non-fiction materials, but then employ genrefication to their fiction materials.
How is Genrefication Different?
Most K-12 school libraries and public libraries classify their resources through the Dewey Decimal Classification (DDC) system. While DDC offers a good degree of specificity for non-fiction materials, it does not provide the same organization for fiction materials. The standard for libraries using DDC is to organize fictional works by separating them from the non-fiction and then sorting by the author's last name. With this system in place, a patron looking to locate fantasy books would need to use the library's public catalog to search the keyword "fantasy" then filter the results accordingly.
With genrefication, fictional works are divided by one more sublevel – genre. This means that a patron looking to browse fantasy books would simply be able to locate the fantasy section of the fiction materials. The public catalog could certainly still come in handy, but it would not be relied upon in such a scenario. Instead, patrons can easily browse their chosen genre like they would in a bookstore.
Call Numbers
The call number structure for genrefied items is quite similar to that of DDC, with the addition of one extra line to indicate the genre.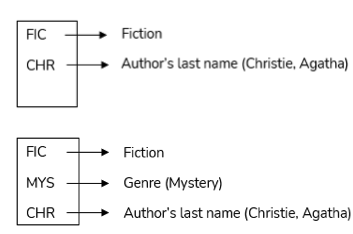 Why Genrify?
Engagement
Genrefying your stacks makes it much easier for patrons to locate materials according to their interests. While patrons are just as able to locate pre-selected books, they are also given the opportunity to browse nearby selections for associated content. This structure can even boost circulation.
Support for Programs and Curriculum
Sectioning your fiction into genres also supports tie-in opportunities for patrons that are visiting the library for programs or classes. In public libraries, this might look like pointing out an appropriate genre for local book club meetings or supporting after school programs by easily locating thematic content. For schools, there are opportunities to relate a genre to class content or quickly connect students to materials that may coincide with their current projects.
Visual Analysis
Having your genres split into easily identifiable sections lets you take a more accurate visual stock of your collection. Genres that are highly browsed and circulated will stand out, allowing visual assessment to aid in acquisition and engagement decisions.
Is Genrefication Right for My Library?
While any library could use this system, genrefication is an appropriate choice for small to mid-size libraries who are already using DDC or a related classification scheme. If you think that genrefying your collection is a wise choice for your library, you can start by using your ILS to run reports that will help you begin the analysis of your current fiction collection. Examining your subject headings and genre fields will provide a working approximation of what genres are appropriate for your collection and how much shelf space should go to each.
Possible Genres to Include:

Classics
Fantasy / Sci-Fi
Folklore
Historical Fiction
Horror
Mystery
Realistic / Contemporary Fiction
Sports
Remember that the genres used and the degree of specificity is up to your team and what you think makes the most sense for your patrons.
Conclusion
Genrefication is a great way to mix up your library and promote engagement with all types of patrons. By visually representing genres in the stacks, you make it easy for people to find what they're looking for – whether that's their favorite genre or something new to try. This system also supports programs and curricula, two other important pieces of any library. So if you're thinking about making a change, genrefication just might be the right choice for you. Do you think genrefication is right for your library? Let us know in the comments!
About Surpass 
Surpass Cloud is the easy-to-use, cloud-based library management system for libraries of all types and sizes. Whether you're a school, church, museum, business, or any other organization with resources to lend, Surpass is likely a good fit for you. We pride ourselves on being affordable and flexible, with an expert support team ready to help you at a moment's notice.